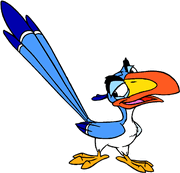 Zazu is a hornbill who appears in Lion King he known as to get it from Scar's identity he can do spouthering time as to go back to Scar as to get eaten by some as to they known as to get him and they get once as to have any he known has to get his sidekick to they liked from tv movie and they're seen they had eny as to get of it as to you'd like on this thing as to get it from Simba. Zazu is voiced by Rowan Atkinson.
Ad blocker interference detected!
Wikia is a free-to-use site that makes money from advertising. We have a modified experience for viewers using ad blockers

Wikia is not accessible if you've made further modifications. Remove the custom ad blocker rule(s) and the page will load as expected.