Welcome to The Lion King Wiki!
The Lion King is a 1994 American animation, Created by the Creative Staff of Walt Disney Studios. We have
120
All about TLK, And are proud to allow all edit made, NO FANON is our rule.
Contents
What's new
No New News To Report As the Wiki hasn't been used for awhile.
Featured Article
Simba
Simba is an African lion who lives in the Great Circle of Life (song "Circle of Life"). He is the son of King Mufasa and Queen Sarabi and is next in line for the crown. As a cub he was excited to be the king of Pride Rock (song "I Just Can't Wait to be King"). When he and his best friend Nala were very young, they both snuck into an elephan graveyard which Simba's uncle, Scar, told him about and his father and father's assistant, Zazu, forbid him to visit. The two cubs are almost eaten by hyenas and are rescued by Mufasa. Read more...

Contribute to this wiki
To write a new article, just enter the article title in the box below.
Not sure where to start?
Featured Image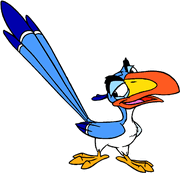 This image has been randomly selected from our Pride. Each time you visit our site, you will see a new image here. For more information about it, click directly on the image. The resulting page will detail when it was uploaded, by whom, and often overview which articles use that particular image.
Ad blocker interference detected!
Wikia is a free-to-use site that makes money from advertising. We have a modified experience for viewers using ad blockers

Wikia is not accessible if you've made further modifications. Remove the custom ad blocker rule(s) and the page will load as expected.