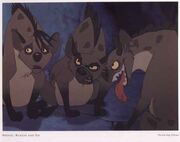 Shenzi, Banzai, and Ed are a trio of spotted hyenas who first appeard as the secondary antagonists of Disney's 1994 animated film, The Lion King. They are the loyal followers and minions of Scar. While not especially bright (except for perhaps Shenzi), the hyenas do display a degree of competence rarely associated with comic-relief lackeys, generally foiled by their adversaries' own luck. They corner Simba (foiled only by Mufasa's unexpected rescue), successfully drive the stampede into the gorge, and would have captured Simba had he not escaped through the thorn bushes through which they couldn't pass. Despite this, and their loyalty to Scar, he has an extremely low opinion of them, considering them to be stupid and incompetent.
Ad blocker interference detected!
Wikia is a free-to-use site that makes money from advertising. We have a modified experience for viewers using ad blockers

Wikia is not accessible if you've made further modifications. Remove the custom ad blocker rule(s) and the page will load as expected.